As an Explorer Scout of the 3rd Lliw Valley (Gorseinon) scout group, four of us decided to obtain our
Duke of Edinburgh's award. As part of the award we had to provide a service to the community so we all joined the Loughor Inshore Rescue, an independent lifeboat charity, as junior volunteers. In the 11 years since then I became a crew member, senior member, Officer and then second coxswain which led to me being awarded the Queens Diamond Jubilee medal in 2012 for my service.
At the start of this year, after 11 years of service, I retired to support scouting in a larger capacity. In those 11 years I saved countless lives and brought people back to their families so they can grieve. I have trained a number of other crewmembers and made decisions to support the charity. Without scouting I would not have had that chance to get involved and be able to provide the service that I did. There is actually another 4 Scouters that are part of the charity at the moment which In a charity of only around 25 people, is quite a high number.
After going through Cubs and Scouts I joined the Royal Electrical Mechanical Engineers in 1988. After going through basic training I served in Germany, Northern Ireland and England, carrying out Operations in Bosnia with the UN and NATO.
I enjoyed my time throughout this period, working hard on exercises and supporting my units commitments, but after a second posting to Northern Ireland I wanted to do more.
I moved back to Germany and after service in Iraq I decided to get back into Scouting and joined my local Group in Gutersloh as an ABSL. I was asked to be the GSL in the next town I was moving to and before I left Germany I was DC. During this period I served twice more in Iraq, where I lost a colleague, and managed to attend the 2007 World Scout Jamboree in the UK - it was fantastic.

I was extremely proud of all my service colleagues and their families who were able to devote time and energy providing Scouting to their communities whilst juggling operations and supporting tasks.

During this period that I had the opportunity to visit the National Memorial Arboretum and whilst there noticed the lack of a memorial to all those Scouters who have went before us and paid the ultimate sacrifice. Not only in service to the Crown, but in accidents whilst Scouting. After 22 years service I left Germany to come back home to Scotland where after a period as an Assitant District commissioner (Adult Training) I was appointed Scottish Headquarters commissioner (Beaver Scouts) while supporting my daughters group as their Training Advisor.
My name is L/cpl Fleming but my mates call me Bob. I was part of the 64th Birmingham Scout Group before joining the Royal Marines 4 years ago. Training is tough and takes you away from all the comforts you would be used too. Once I got my green lid (beret) I was posted to Zulu company 45 commando in a rifle troop.
From there I continued to home my skills as a professional soldier and deployed on Herrick 14 at the beginning of 2011. For six months I served in Nad-e Ali, approximatly 40 kilometres south of Camp Bastion (the main camp in Afghanistan).
There were good times and bad. Boring and exciting. When we were bored we found amusement in almost anything making up countless card games and doing ridiculous amounts of exercise. Sometimes it was tough being far from home but in reality I can't complain... I signed the dotted line! This is what we joined to do.
At the end of it all I can say I gained a lot of life experiences being out there. Life out there for the Afghans is tough however it is getting better for them. We have made a great impact on the country's security and most importantly freedom. Collectively as a military force I believe we have achived the majority of what we set out to do.
John 'Jack' Travers Cornwell, a Scout in the St. Mary's Mission Group, Manor Park, London, entered the Royal Navy in 1915. It was wartime and training was brief, but Jack, helped by his days in Scouting, was able to adapt quickly.
On 31 May 1916 while serving on HMS Chester in the battle of Jutland, Jack was struck by a shell splinter. Grievously wounded, he stayed at his post awaiting orders until he was relieved. On reaching port, Jack was transferred to a hospital in Grimsby and three days later he died a national hero.
For gallantry he was given both the Victoria Cross and the highest Scouting award, the Bronze Cross. To commemorate the courage shown by Jack The Scout Association created 'The Cornwell Scout Badge' in his memory.
Hello, my name is Elizabeth Holmes-Daniels
My brother is Corporal Harvey Holmes.... Harvey was a beaver, cub, scout and explorer scout at 3rd Newton, 5th Stalybridge and later on at 7th Stalybridge Scout Group. Harvey was a fantastic Scouter who enjoyed all aspects of the movement. He was thrilled when he became patrol leader and enjoyed passing on his knowledge and skills.
When Harvey turned 16 years old he joined the Army. Having a good basic knowledge of skills from scouting he flourished and went from strength to strength. He joined the 22nd Battalion Cheshire Regiment which later became 1 Mercian Regiment. After traveling the world he was deployed to Afghanistan in May 2010 and one month later he lost his life in action. He was a Cheshire Oak and a towering pillar of strength to everyone.
My son, SAC Peter McFerran, was serving with 1 Squadron of the RAF Regiment in Basrah when his accommodation block came under rocket attack. Peter and 2 friends (Matthew from Birmingham and Chris from Leicester) made the ultimate sacrifice and lost their lives instantly. That was on 19th July 2007 – a day our family will never forget.

Peter started out in life as a fighter, being born 8 weeks early, unable to breathe for himself or feed properly. He was a survivor. He was born into scouting and attended his first cub scout camp at the tender age of 7 months, joined Beavers at 6, cubs at 8, scouts at almost 11 and then Venture Scouts. He eventually became a helper and would visit our cub pack whenever he was home on leave and especially loved their fitness challenge! He also made sure they knew how to make their beds and keep their sleeping area tidy. This evening our cubs have made their own poppy wreath ready for our parade on Sunday. I could explain why the poppies but not why it is so important to me.

As a family, we never tire of visiting The National Memorial Arboretum – it is such a peaceful place – and now look forward to the new memorial (when it is finished) especially to commemorate the Scouts who have been lost in tragic circumstances.
Ian was what I would call one of the last true Scouts. He didn't just wear the tee shirt, he had been there and actually done it.
It all started around 30 years ago when, I am informed by our former District Commissioner Rae Bradshaw, Ian was a Scout in a short lived Scout Group in Hatton. When this closed a leader and a number of Scouts moved into the Tutbury Group, one of the Scouts was Ian.
Ian was a good Scout and when he became too old to be a Scout he changed into a leaders uniform, the older ones among us will remember those plastic trousers and the brown tie of a Venture Scout. Tutbury did not have a Venture Unit, so Ian took on the role of what we now know as a Young Leader. Having done it himself, Rae knew it was not easy to move from being a Scout one week to being a Leader in the same Troop the next but Ian did it. Ian was always unassuming but he developed into a conscientious, reliable, hardworking leader with a good sense of humour. Ian loyally stayed on at the 12th Burton upon Trent, 1st Tutbury & Hatton Scout Group completing 33 years of service to Scouting.
He was a kind, gentle chap, and as already mentioned, totally unassuming. He was a role model for Scouts, always willing to do his best, helping other people and never ceasing to share his skills and knowledge.
Ian wasn't materialistic or flash; all that was important to him were his friends, Scouting, local community and his family.
Ian had 3 children, all of whom had to experience camping from the earliest possible age, It goes without saying that Ian will be greatly missed by his family and friends. They say no one is indispensable but some people leave a big hole when they are not there anymore and Ian is one of them. Whilst this may fill the physical gap. Ian's legacy and love will live on. Over £1400 was raised for the memorial at Ians Funeral.
Peter Steadman - Group Scout Leader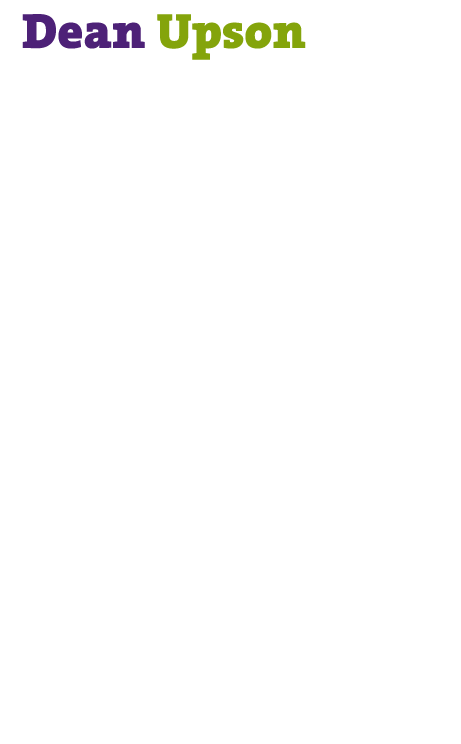 My Name is Dean Upson and for 14 years I served with the Royal Engineers until my medical discharge in 2011 for Post Traumatic Stress Disorder. I was a Cub and Scout when I was young and joined up after leaving college in 1997. Within a year I was on my first deployment to Balkans for the Invasion of Kosovo. I did a few more exercises a round the world and then spent 2 years in Northern Ireland as a welder as in the Royal Engineers we all have trades as well as being soldiers and combat engineers.
I was part of the Invasion of Iraq in 2003 which was a very hard time but was very rewarding for the work we were doing and not just fighting. Three years later I was in Afghanistan for my first deployment. When we first went into Helmand I was in a bomb disposal role but due to nature of tour we did not do much of that and were mainly used in a fighting role although we did have to do a few minefield rescues. I then spent a bit of time in the Falklands monitoring the minefields left from the war which was an interesting job. In 2008 I went back to Afghan a second time in a bomb disposal but I also spent a lot of time working with a team call the M.E.R.T (Medical Evacuation Reaction team). Our job was to fly out in helicopters, rescue and treat the injured until we got them to hospital, but unfortunately we were not always successful.
when I saw the project I was keen to get on board as remembrance is very important to me for the guys we could not save but also for friends and colleagues, a lot of them I know had been involved in Scouting. When I was discharged I saw Bear doing his tour and he spoke of the Scouts that I realised that
I had got a lot of skills from the Scouts that really helped me in my time in the army and so I should share the skills I had gained
from the Army with the Scouts.
Dean Upson
Assistant Explorer Leader Wateringbury
Danny Hemmings and Matt Whitehouse are Scout Leaders at the 64th Birmingham Scout Group. One night Danny had arrived to run Scouts when he turned to see a car swerve off the road and crash into a tree. He immediately approached the smoking vehicle and found three casualties. He instructed the two uninjured people to exit the vehicle through the passenger's door and then turned his attention to the third person who was trapped in the back seat. Whilst constantly reassuring the distressed casualty Danny rang 999 requesting the emergency services.
A few minutes later Matt arrived at the scene and saw a badly damaged car in the road with thick smoke coming from the vehicle. However, seeing that Danny was with the casualty in the vehicle Matt didn't hesitate to go to the car and find out what he could do to help.
Realising Danny had everything under control, Matt went to assess the two other people. Matt then started directing traffic around the scene in order to ensure easier access for the emergency services.
Despite the risk to himself Danny stayed in the smoking vehicle with the trapped casualty until the emergency services arrived. The fire service quickly realised that the collision had caused the car's fuel lines to fracture and any spark or short-circuiting components could have caused an explosion. They first made the scene safe to approach and later cut the injured casualty out of the car.
Danny and Matt placed themselves in great danger to provide aid to complete strangers without any hesitation. Neither of them thought they deserved any recognition for their actions but both of them were awarded the Gilt Cross for Gallantry.
As part of the project we are eager to collect examples of exceptional service and courage within Scouting as well stories about members of The Scout Association who have served in the armed forces. If you have such a story and are happy for us to use it in promotion of the memorial then please contact us at
memorial@birminghamscouts.org.uk
with roughly 200 words explaining your story and any accompanying pictures. Unfortunately we cannot post all submissions on the website but we will do our best to post as many as possible. Below is a selection of stories that we have compiled so far.